ZEEMAN'S FAMILY EXPANSION

︎︎︎ COLIN VAN DEN BOSCH / CULTURE

Zeeman's Family Expansion

Welcome to the future of the Zeeman families. In the past months I have developed a concept for Zeeman to stay relevant in 2031. The new concept Zeeman's family expansion focusses on fulfilling the needs of family members that are not represented, yet. Find out why families are changing and what Zeeman's new strategy will be in 2031.
Read on in my concept book!
The starting point of this concept is the strong family presence from Zeeman.
It inspires me as a brander how Zeeman started as a family company and how this is still a big part of their brand DNA.
Zeeman's core value 'betrokkenheid' plays a big role in this concept as well.
Traditional families will change in 2031, Zeeman's family expansion leads the way in changing family dynamics and needs. The first priority of this new concept is to create buzz around the new product range. The target group is looking for an experience, not for themselves but for their extended family members.
Prototype

The New Visionaries are online for most of the time, this has resulted in a strong urge to experience more offline. Research shows that over 40% of these families will have a dog, this dog will be part of their family. This is why the first outing of this new concept will be Zeeman Pets. People are more online, pets on the other hand still don't know how to use an Ipad.. So how can we target both?
• Product range for dogs
A selection of dog products, in the future more products for other extended family members can be added.
• POP-UP salon
An experience for the extended family, people can buy the new pet range, the product range will be sold in the 1.300 Zeeman stores and online as well.
• Online & offline campaign
The online & offline campaign will show the first drop of Zeeman's pets. Online targets the 'owners' and offline all of the family members.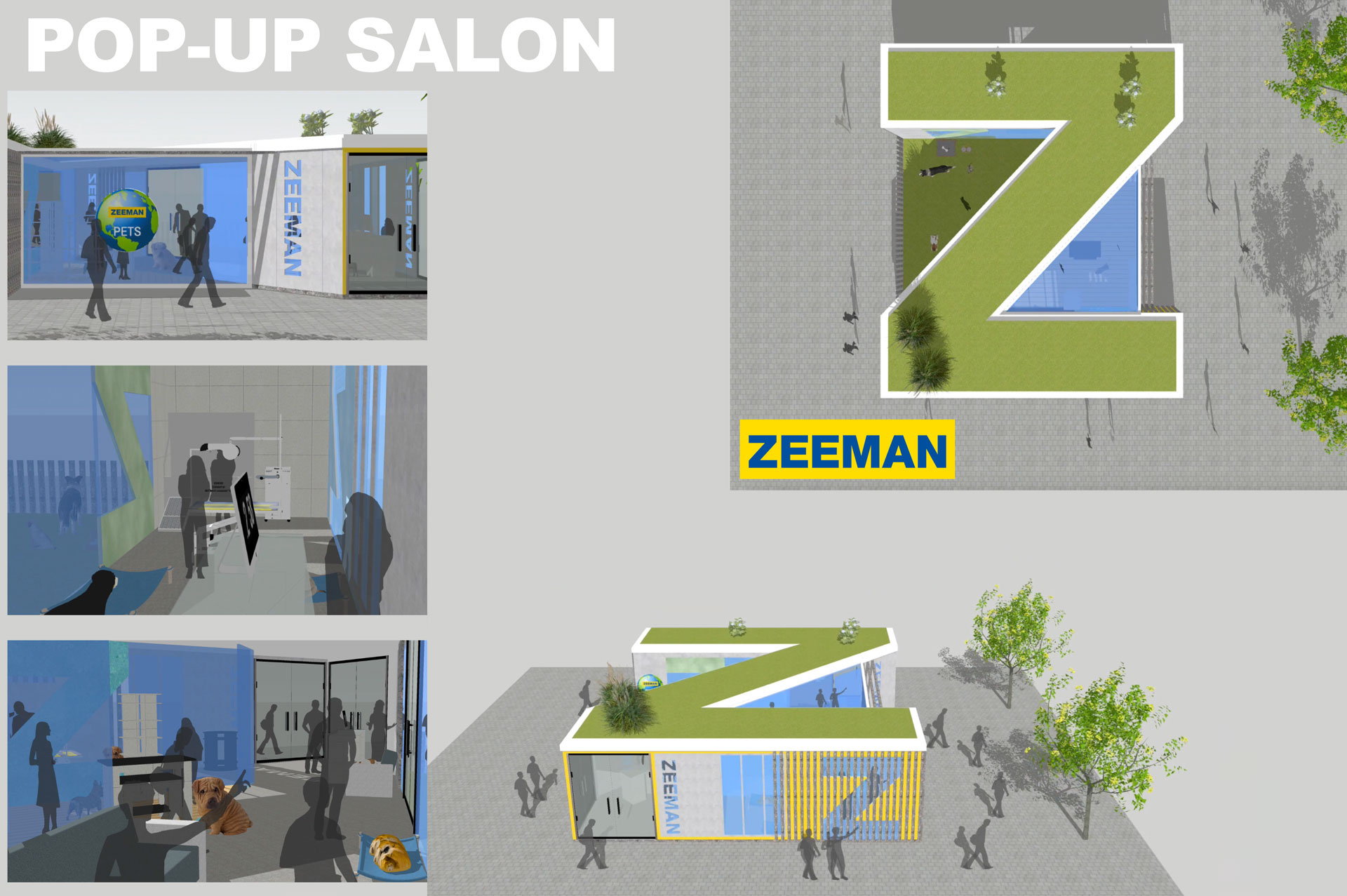 ︎
INSIGHT REPORT 2020
Brands and Innovation

Amsterdam Fashion Institute