Why online shopping is harmful for people, planet and product
During the lockdown, when all the stores were closed, I did a lot of online shopping. And I was not the only one. In no time, my roommates, friends and family had puzzles and running shoes delivered on the doormat. The postman became a friendly face we saw daily. We could not do a lot those days, but we could shop online. Web-shops became our playground, and in case the shoes were too small, we sent them back and received new ones with next-day-delivery. Undoubtedly, many people will recognize this type of behavior. Yet, this new way of shopping did not raise questions back then. Now I should have known better.

︎︎︎NIENKE VENEMA / SOCIETY

Critical Towards Online Shopping
Covid-19 has disrupted traditional routes to product discovery and consuming. Since the crisis consumers are shopping more online to avoid crowds and indoor shopping locations. As a result of this, the lockdown has accelerated a consumer shift to e-commerce. The growth rate of online purchases has tripled this year to account for 23% of European sales. Now, as stores reopen, some of the purchasing behavior that shifted online will most likely stay. Retailers need to respond to these new shopping habits in order to maintain their existence. Because who needs to buy everything under a roof when Amazon is only a click away? However, we should stay critical. Is this how we want to continue in the future? And for me the most important question is: what are the environmental and social downsides to online shopping opposed to in store?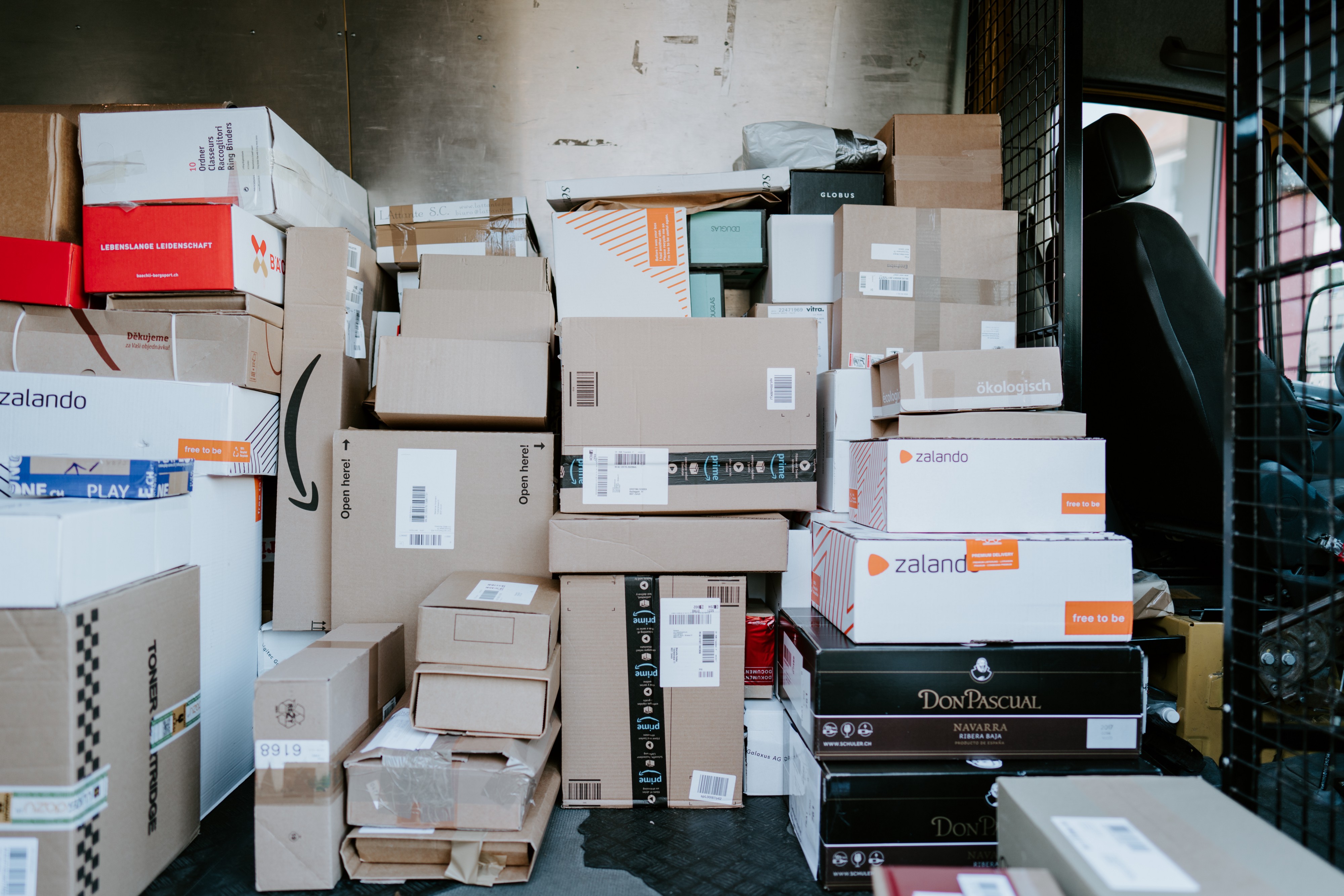 Packages waiting to be delivered, source Claudio Schwartz
Consumers Value Connection

Using your living room as your office, homeschooling the kids, working out in your neighborhood. Many peo- ple adopted new habits, just like online shopping. Moreover, the way people shop has dramatically changed. Seeking control in a world of uncertainty, people are shopping more purposefully. Nowadays, not only how and where people are shopping, but also the-why is something that people consider more. Accordingly to a research report by McKinsey, there is a shift in consumer behavior. Consumers buy more durable products and value their purchases more. Online shopping is not always able to meet this shift in behavior. Namely, the lack of touch-feel-try creates concerns over the quality and will eventually lead to less product-connection.
In recent years, store formats have transformed to be more engaging and interactive to enlarge product-connection, and with good reason. People are more selective and appear to be sensitive to the originality, trustworthiness and genuineness of a product. With retail experiences, you create memories to eventually increase product value. When enhancing emotional values for products, products will last longer and are thrown away less on a large scale. Due to the crisis and the lockdown, the need for emotional connection cannot be fulfilled anymore by retailers. Consumers will realize that online shopping will not provide them the experience retail can offer.
Packaging Problems

Online shopping is not the most sustainable way to consume. In the Netherlands we order a lot from the internet. However, the problem lays within the numbers of returns. Almost half of all the online purchases are being returned, which shows the dissatisfaction of consumers ordering online. Contrary to offline purchases, where the amount of returns is only less than ten percent. All these returns need to be shipped and transported to many different locations. Total shipping emissions account for three percent of all the greenhouse-gas emissions world wide.
With an ever increasing number of packages being sent around the world, another major environmental concern arises: the huge amounts of plastic and cardboard used in the process. In recent research by Fast Company shows that in 2017 the cardboard used for packages in the US alone equates to nearly 1 billion trees 8. The numbers above put in perspective how pollutive the industry of online ordering is. As online shopping continues to grow, so will the environmental impact.
Stores Still Matter
Unfortunately, the virus has created a barrier to go to the shop. Therefore, in store innovations are critical as consumers habituated to shop online. Safety measurements are the new normal and private shopping events are organized. Stores will need to go further in offering unique experiences to trigger the shopper again. For instance, exclusive in-store merchandise and, contactless pick-ups.
After all, the crisis has reminded consumers that human connection and community matter most. People simply need to interact with one another and experience that serendipity moment. Stores have the chance after the pandemic, to create new opportunities with true personal services. Retail may become the place where people convene, not just to shop but to spend time together.


"The crisis has reminded consumers that human connection and community matter most."
Hopeful Perspective

But for now, consumers will need to reconsider their online shopping behavior. Retail experiences will create conscious consuming and product-connection, something we are aiming for these days. Besides that, we need to be more aware of the waste by packaging and greenhouse-gas emissions when ordering something online. Lastly, engaging store experiences and real connection with clients - carefully managed digitally and in real life - will get the consumer back to the shop. After the pandemic, this will be the kind of retail we all have been longing for.
︎


Retail are open with safety measurements, source Business of Fashion
INSIGHT REPORT 2020
Brands and Innovation

Amsterdam Fashion Institute