Tell Us Your Story

︎︎︎Patrycja Sudzinska / CULTURE

Have you ever experienced something so incredible that you never wanted it to end?

Imagine you could take this moment with you into the future, capture it and relive it whenever you like, and experience the same feelings as you did in that moment.

Now your sneaker can become your personal treasure and the narrator of your most valuable stories. Everyone's life story is valuable and is worth documenting and sharing. A story that you can pass on through generations and let history live on. Visualise yourself stepping into someone's shoes, retracing their steps and experiencing their life story from their perspective.

If you dream about this, then let me introduce to you Filling Pieces new storytelling chip, which brings a new perspective on the life of a shoe or garment through a unique addition.


Welcome to the future of Filling Pieces.

This is a future where digital and global takes over the world. Emotions and culture are no longer cultivated and people live separately all around the globe. This is where Filling Pieces comes in to preserve culture and re-unite people in a world that is so cut off from the real and physical.

In order for Filling Pieces to thrive in the future market and make a positive change they must adjust to the advancing technologies, whilst uniting people, adding value to individuals and keeping cultures alive.



With the Filling Pieces storytelling chip you can capture your stories inside a garment and view them through a storytelling app as an interactive AR filter. In this way you can preserve your memories and culture and share them with the world. The Horizon line is a special line of products made especially for storytelling. One of the first Horizon products is the storytelling shoe. Why a shoe? So you can retrace your steps and continue creating your path with us.
You can order your storytelling shoe through a customiser page. There you fill in your lifestyle and pick the colours of your Horizon shoe. Finally, you can make an appointment to share your story. The Filling Pieces designer team makes an AR filter especially for you. It is also possible to DIY your Horizon by designing your own AR filters and 3D printing your shoe from the comfort of your home. You can view your story via the Storytelling app. There you can interact with your product, share your stories, explore others stories and create new ones.
Filling Pieces Storytelling Chip
Storytelling App : View your stories, share your stories and create new stories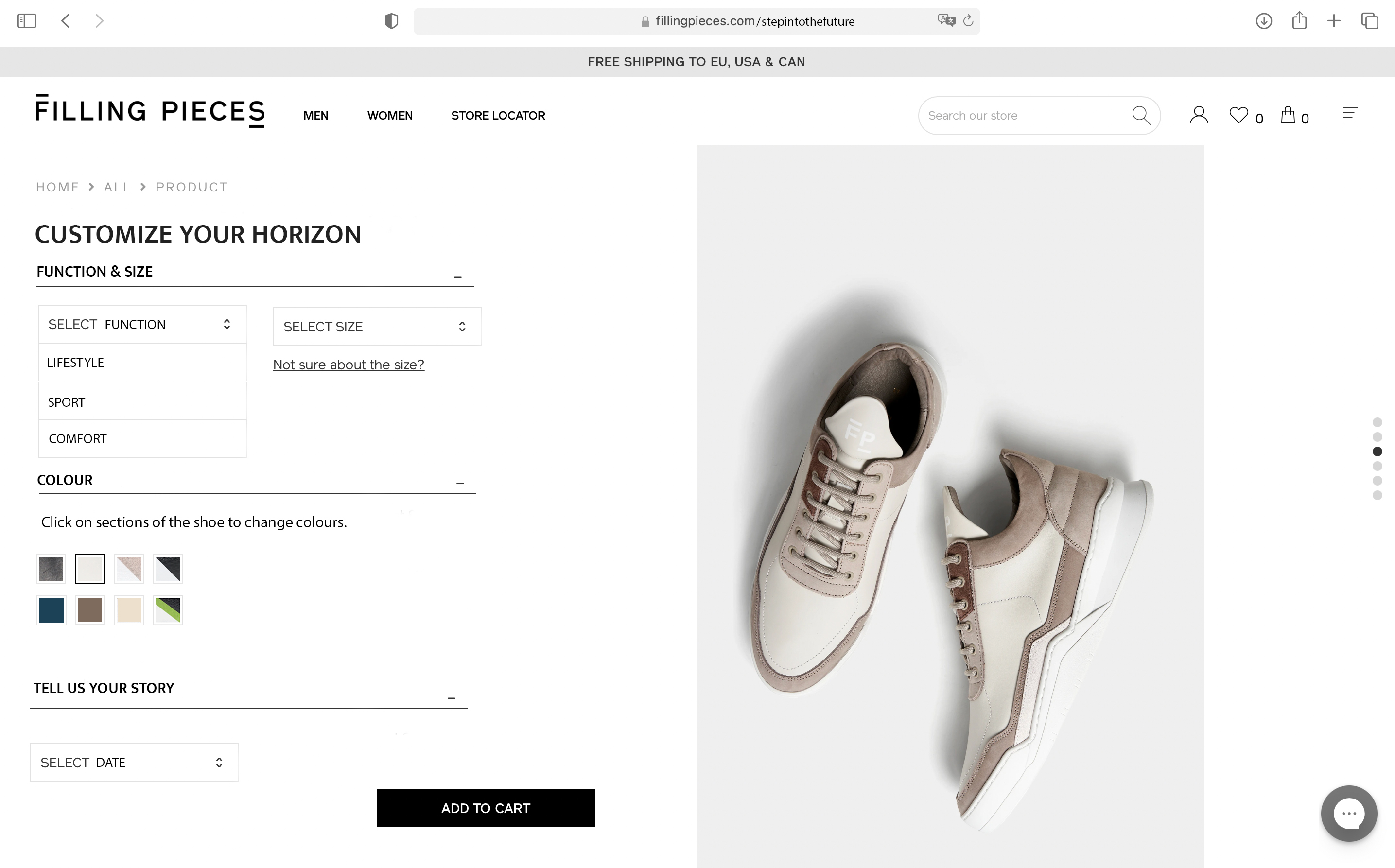 Customizer Website
Customized packaging : Storytelling Chip
---

More from Patrycja Sudzinka
INSIGHT REPORT 2020
Brands and Innovation

Amsterdam Fashion Institute