HEIR FOR RVDK
︎︎︎ROSA LAAN / WEALTH

HEIR reconsiders the way we view textile, its emotional value and heritage.

As we all are an heir to someone, as I am to my mother. I got inspired by a small diary, in which my mom captured the first few years of my life. It's an example of what power an heirloom can have. Reading it now, years later it still gives me the same warmth and sense of connection as it did before. Turning the cover, it holds a little envelope with my first strands of hair. My DNA, my story is in this envelope, within this booklet. What if I could make a fabric, contain the same emotional value as this diary?


As people, we try to find human characteristics in everything. Giving it a persona, adding to its emotional value and understanding. What if we looked at fabric this way? As if it were to be 'alive'. We would change our views on the way we treat it, discard it and value it.
This concept aims to raise people's awareness about the value of the textiles they wear every day. The translation into fabric made from our closest source (our body) is, however controversial, a way to look at a fabric's life as we look at our own life: irreplaceable.
The future paths of DNA based textiles is one we should tread carefully and ethically conscious. Which is why I have chosen for it to be an heirloom. With the sole purpose of it being a personal investment, on our own account and in close collaboration with the designer.

When you wear Heir, you know it is worth a lifetime and once passed down it'll carry the stories of many.

The concept translates into three fabric samples, together with three conceptual sketches and an application sketch. Each adding humanoid characteristics.
The first prototype represents the usage of hair. The base for the prototype is molton and other materials include yarn, wool and hair I cut off an old barbie doll. Hair is a very strong and underestimated material which historically played a big part in heirlooms and emotional treasures.
The second prototype suggests a 'grown' fabric, in this case from DNA. It is made from Kombucha Scoby 'leather'. Scoby stands for "symbiotic culture of bacteria and yeast" and is used in the fermentation process of kombucha. The prototype has a leather-like feel and gives the impression of a 'second-skin'.
The third prototype suggests dying with bacterial pigments. Again, I've used a base of molton and to dye it I've used beets and spirulina (an algue).

Dyeing with bacteria has a lot of benefits: unlike synthetic dyes it isn't harmful for nature and it is safer for your skin.

The samples have been translated into a series of conceptual designs.


The muse behind my conceptual designs: My grandmother, to whom I am an HEIR.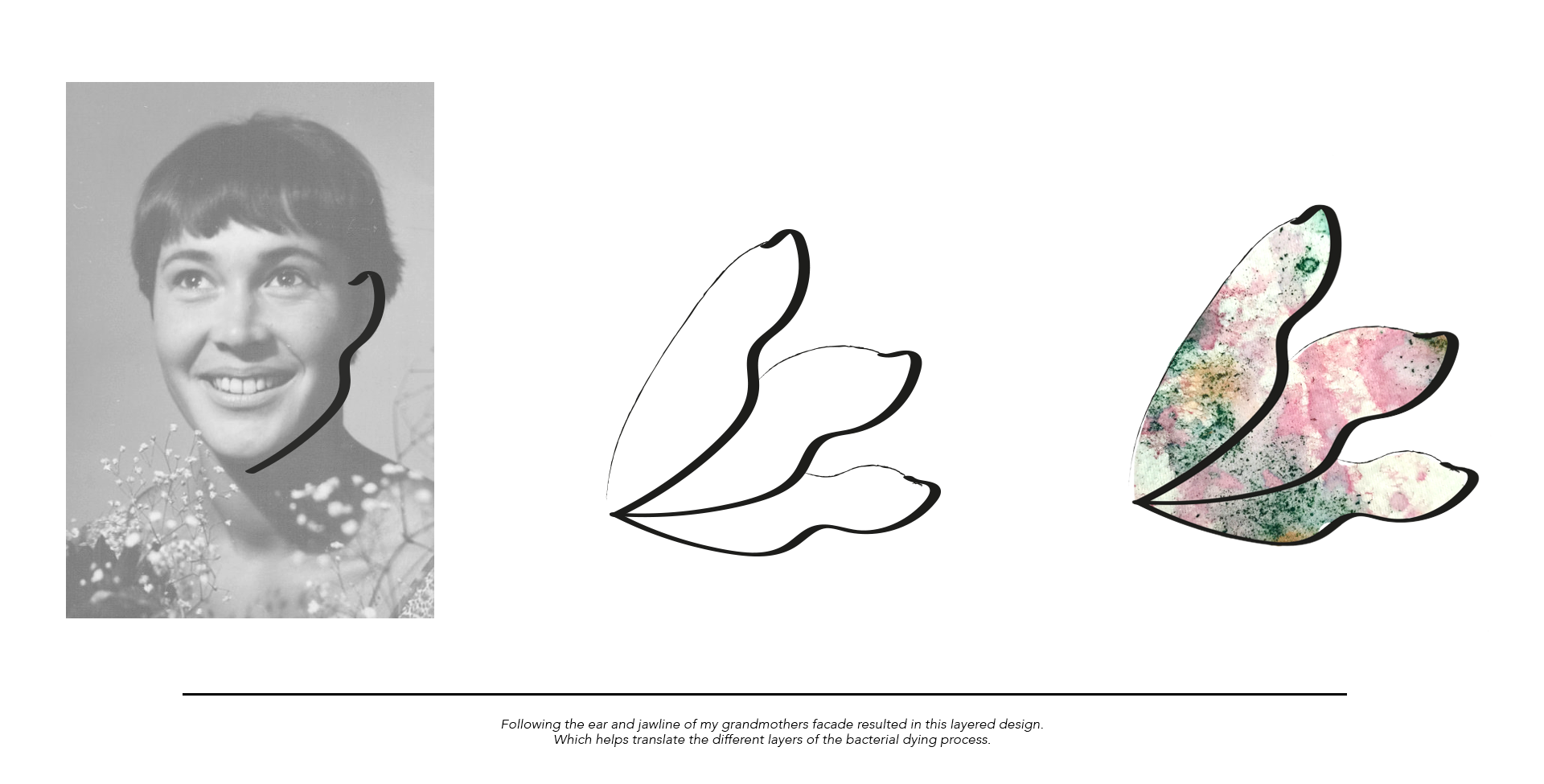 With HEIR, you'll experience a renewed emotional sensation with textile.
Due to the emotional intricacy of an heirloom, it is best applied subtly, as a broche.. Carrying it wherever you want it to go.
On display as much as you prefer of deem appropriate. Small yet valuable, easy to pass on to your heir. To be treasured for lifetimes to come.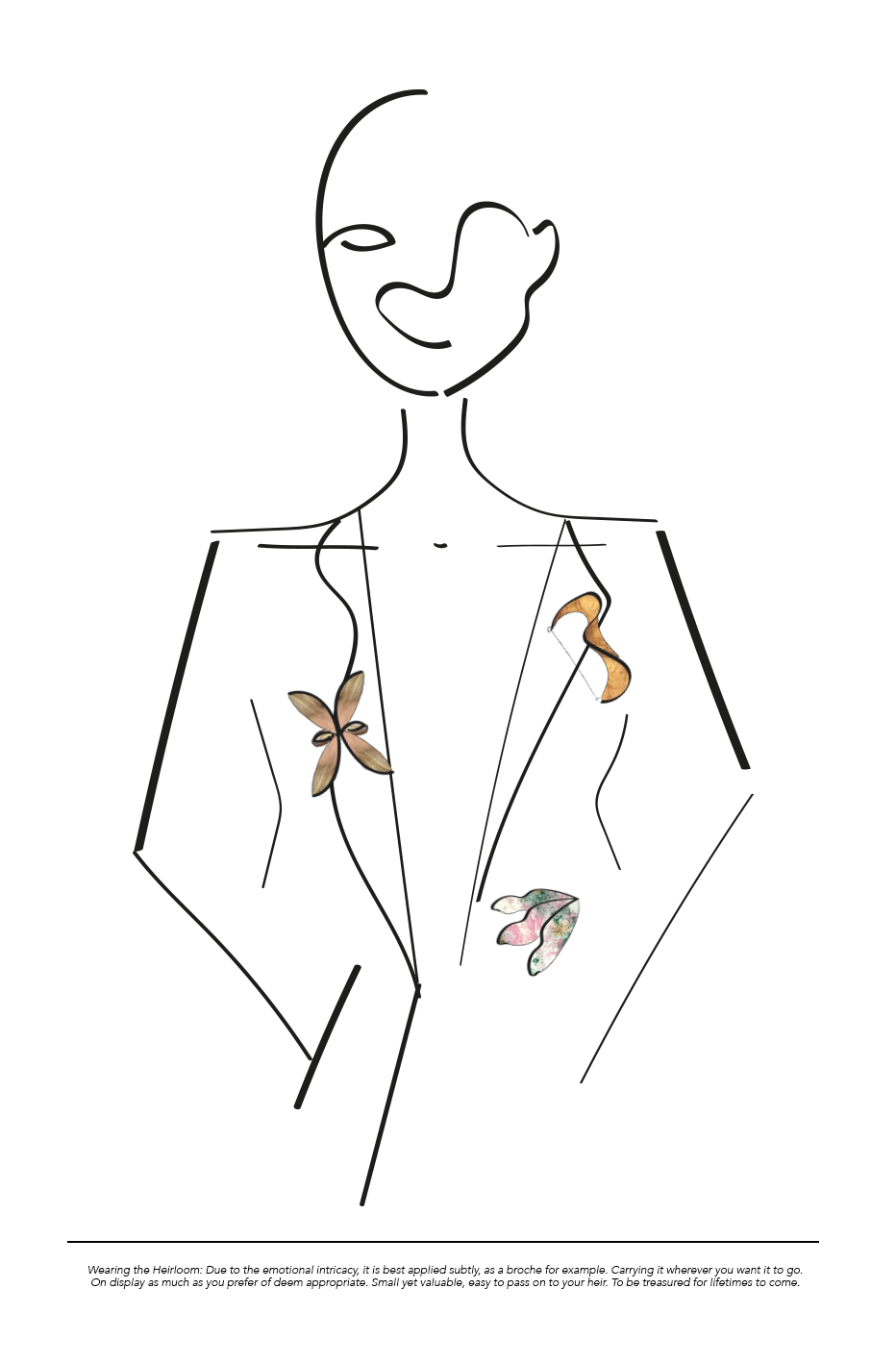 INSIGHT REPORT 2020
Brands and Innovation

Amsterdam Fashion Institute