Do not touch this art!
Art is something you usually cannot touch but it can definitely touch you. In this time where we are reconsidering everything. Art has proven to be a great replacement when longing for touch. Okay, this might seem a little confusing but let me explain; social distancing has led us to touch less, feel less connected and we even developed the term huidhonger. The literal translation is; skin hunger. When thinking of something that we were not allowed to touch ever before, it must be art. But times are changing, if we can't touch or connect with each other, these artists might have the solution. Touch and connect with art!


︎︎︎JULIA MORSELT / DESIGN

When researching the term huidhonger, the extreme need for touch and affection, one can sometimes imagine what this might feel like. After quarantining I suspect most of us are familiar with the feeling of wanting to physically touch someone. This can go from shaking a hand to making love. Humans connect through many things; touch, speech, sports but also art. Can we solve this problem of huidhonger through my most beloved discipline, art?


"Can we solve this problem of huidhonger through my most beloved discipline, art?"

With these questions in mind I started looking for artists that would share my love for touch and human attachment and to my surprise I found out that there is quite a lot of great artists out there solving the problem of huidhonger. They make huggable art, interiors where you immediately want to lay down and nap with your lover or pieces that visualize the feeling of missing someone. And you know what else I found out, comfortable does not always have to be ugly!


The Birth of Us (boy), 2007
Cuirass, 2005
Can you feel the touch?
The artist that first appealed to me was the Stockholm-based sculptor Anders Krisár. His art almost visualizes the obscurity of huidhonger. Creating realistic skin is an art in itself and he managed to do this whilst telling a message. It makes his work very surrealistic and literally touching. Anders himself says the following about his art: "My works attack the integrity of the body, creating a visceral and immediate response. They embody a vast collection of desires and anxieties that are both acknowledged and unacknowledged, from abuse and violence to purity and beauty." To me these pieces literally embody what huidhonger means to me. The warmth a touch can leave on your skin, the print that some touch leaves on your body and how touch is interwoven with the human.

Fort Folly, the safe haven
"This cuddling castle is made for the naive" says creator Jan Pieter Kaptein. It is a gigantic pillow fort made to explore, feel no shame and not take yourself too seriously. The safe haven made out of more than 200 pillows is meant to advocate creativity and playfulness in the bedroom. This piece was shown at the Dutch Design week 2016 and it quickly caused a stirr, obviously everyone wanted to take a nap here after a long and exhausting day. And let's be honest, who wouldn't want to cuddle in this art piece?
Fort Folly, 2016


And let's be honest, who wouldn't want to cuddle in this art piece?


FEELING YOUR ABSENCE

Apart from missing touch from your loved ones because of lockdowns and quarantines, there is a greater form of missing. The artist Mathilde Roussel-Giraudy visualizes how it feels to lose someone beloved. In her work you can feel the absence and the pain of missing someone. In this time of pandemic, crisis and fear, this ceramic piece portraits the missing in everyday items and this might make it even more impressive.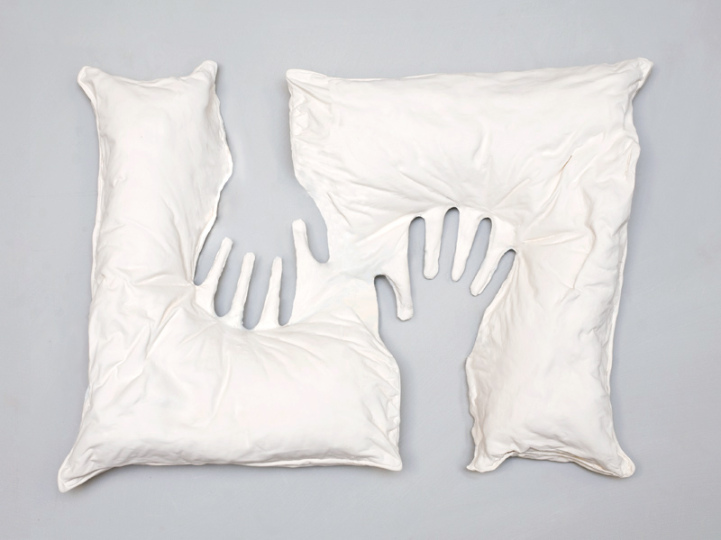 Feeling your absence, 2010
A chair with flair
"I've developed a form language called Soft Cylinders. Essentially, I take a line and subvert it. It's the product of explorations in material, form and movement––the feeling of mechanical movement versus body movement" is what designer Ara Thorose says about his style of work. The furnitures almost feel like they will accommodate you in every way you want, the design is minimalistic and only has what it needs to function yet it doesn't look like a solely practical chair. It looks soft, warm and welcoming, it makes me want to linger in it all day and let the quarantine time pass away.
Soft Cylinders, 2018
Absorb me
Erneste Neto is a well known artist making surrealistic installations to challenge the senses of his viewers. This can be seen (and felt) very clearly in his 2001 exhibition called the
humanoids.
This is exactly what I mean when I say I can feel this art. And eventhough this art piece was not made knowing a pandemic was ever going to occur, it will definitely help us feel embraced, loved and surrounded. Neto says: "I aim to create an equally absorbing, boundary-blurring experience for my audiences, soliciting interaction and multi-sensory engagement from viewers of my engrossing biomorphic sculptural environments; I seek nothing less than to create and to tap into a universal language of the senses." Well, I think we can all agree he did that.
So, huggable art. Yes, that is a thing. And maybe that is even more preferable than all the art in the musea with the famous sign:
do not touch
! Because after all, art is something created to inspire, adore and to tell a story with. So we might have to reconsider art as something to touch as well.
︎
S
INSIGHT REPORT 2020
Brands and Innovation

Amsterdam Fashion Institute