3D fashion is making the supply chain of the future more sustainable and creative
There has been a digital revolution in the fashion industry since the pandemic. Digital developments accelerated because of the occurrence of the social distance society. Fashion brands needed to reconsider their ideologies, because of the new consumer needs. Consumers are longing for new retail experience in a post-COVID society. They will value the essence of the material and the product more and therefore buy less. Consumers want access, connection, insights, and rarity. The pandemic made the role of social media indispensable for our human connections. The fashion industry can provide for new consumer needs while making the fashion supply chain more sustainable in the future. What could this solution be, you ask? Simple, 3D fashion!


︎︎︎FABIENNE DE BEVER / TECHNOLOGY

Microsoft Augmented Atelier, designing without physical limitations

Let's start by reconsidering the design and development process. Designing, sampling, prototyping, testing materials, and so on. Microsoft Augmented Atelier has made it possible to take those steps in a digital 3D program called Azure Cloud. This is a collaboration between Microsoft and Jaime Perlman, founder of fashion magazine 'More or Less'. A new digital and sustainable approach to creating a fashion collection. By creating 3D digital garments that could be fitted and altered via augmented reality on a physical mannequin in the room. This tool would empower the creative process by eliminating the limitations of physical garment creation. Through this technology, a lot of used materials and shipments can be eliminated. This could speed up the design and development process strongly. There would be less physical traveling in the process as well.

The difference between wearing your garment outside and online is that online, many more people can see it and we simply won't waste any material on it
All Digital Fashion Collections and 3D design eliminate mass consumption

Non-physical production process

When using 3D designing programs like Microsoft Augmented Atelier, the relationship between clothing and consumers will change completely. Consumers can now choose and personalize their garments in virtual showrooms. This means we will go from mass production to a 'made to order' system. Consumers will be more emotionally attached to the products they buy and therefore will wear it for a longer period of time.
A more extreme example would be the development of all digital collections. In this case, there would be no physical production needed for the clothing you buy online for your digital wardrobe. The Fabricant is the first company that created digital collections for brands like Tommy Hilfiger and Puma. You buy a 3D digital sample of a garment from a brand. This item can be customized as well. The brand will place the 3D garment on a picture of yours. Now you can post this picture on social media.
The new normal in retail

You could visit a virtual showroom to purchase an all-digital 3D collection. Virtual showrooms with 3D prototypes are also used for selling physical collections to consumers online. Diesels HYPEROOM is a good example. It offers an immersive shopping experience that can strengthen the connection between brand and consumer and therefore creates stronger consumer loyalty. Designs are being displayed digitally. You can try on the garments using a personalized avatar. Scan a picture of your face on the avatar and you can fit garments virtually. Customers can interact with clothing items in 360-degree displays and product descriptions are available as well. There will also be information about the inspiration behind the collection. This is how consumers are provided with their needs for brand insights. The garments can be customized as well. You now have something rare in possession. Either in your physical or digital wardrobe. A lot of excess buying, returning, and wasting resources would be reduced by shopping via virtual showrooms.
'Gigi Hadid could be on the cover of Vogue, without being physically present on a set.'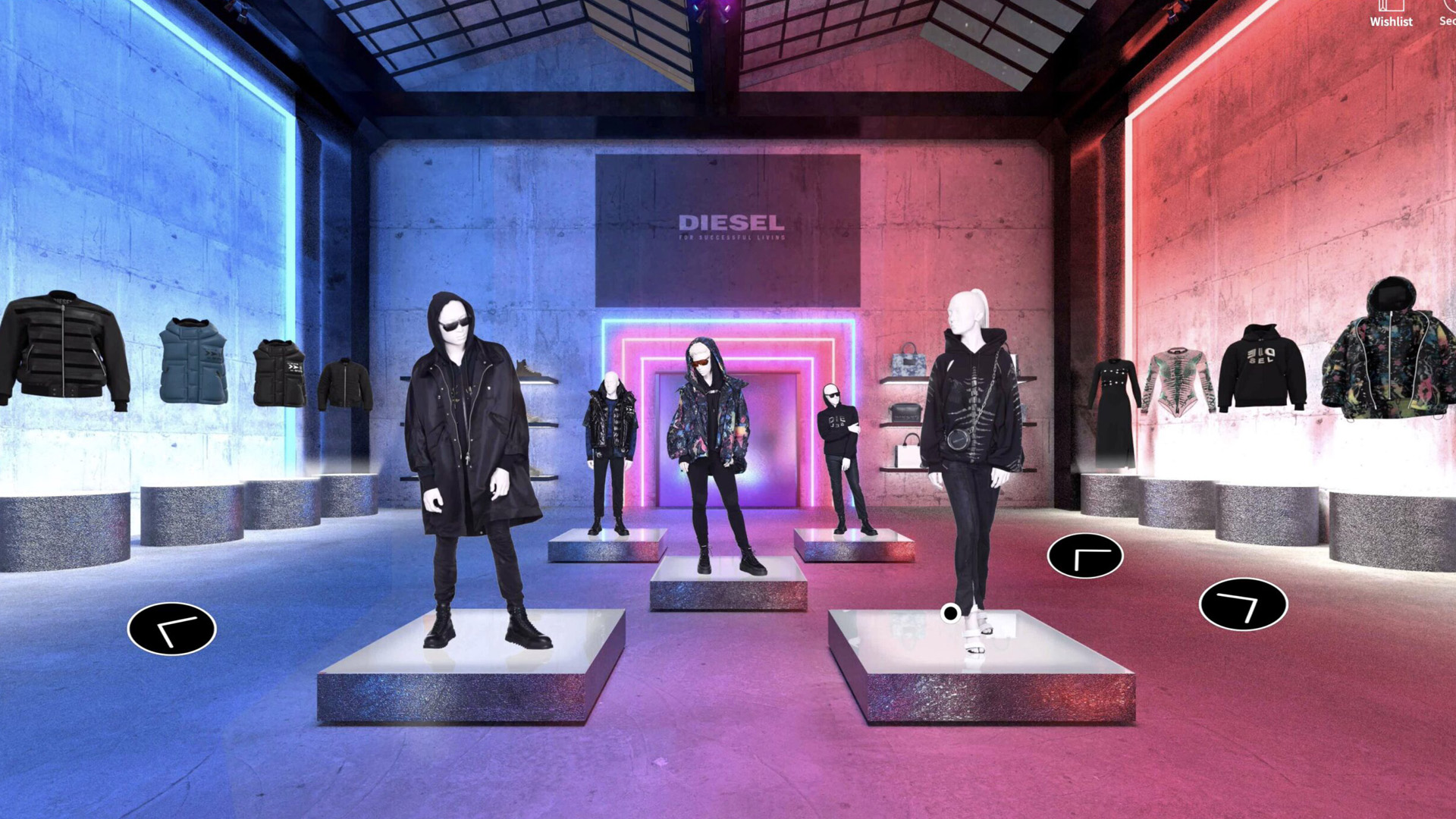 HYPEROOM from Diesel provides more creativity for the consumer, by customizing your clothing
3D Avatars and AI, no need for physical models anymore

Campaigns of the future

In the post-COVID society, fashion photography and campaigns will be created using artificial intelligence and 3D avatars to showcase new 3D fashion collections. The pandemic provided us with possible replacements for physical models. No more traveling or even producing physical garments and more creative freedom. Selfridges&Co collaborated with DIGI-GAL for a new 3D designed campaign. Cat Taylor, founder of DIGI-GAL says: "We were able to create impossible clothing that could not exist in real life: garments that defy gravity and walk without bodies." This means virtual design opens up a whole new world of possibilities for fashion shoots. There are also developments in AI to turn mannequin images into model images using an artificially generated face or digital replicas of existing models. Gigi Hadid could be on the cover of Vogue, without being physically present on a set. Digital consultant and academic Karin Nobbs has found that when consumers can't tell the difference when a model is computer-generated, it does not affect their intent to purchase.
Reconsidering fashion shows
Due to the pandemic, the fashion industry needed to improvise on digital solutions. The carbon footprint of a digital fashion week is substantially lower than that of the physical one.
With 3D fashion collections, fashion weeks could get a whole new, more creative, and sustainable meaning. The fashion industry is collaborating with the game industry. Using virtual reality and artificial intelligence for virtual fashion shows. All digital collections for your game avatars. Reference Festival has created an Animal Crossing fashion show where avatars were dressed up in current season looks inspired by Loewe. This digitized fashion show is not only ongoing in combination with the game industry. There are also 3D avatars, which can be replicas of famous models, walking on digital runways, showing 3D collections in whole new environments.
No better solution, right?

Consumers can get more insights into their purchases via virtual showrooms. Buying fewer physical garments, but still being unique through customized all-digital collections on social media or in games. Brand connection and loyalty is created by the limitless opportunities for creative digital 3D collections, campaigns, and retail spaces. Providing brands with more opportunities to showcase their ideologies in different ways. This also provides new experiences. All this, in a digital supply chain, where material waste, polluting transportations, traveling, mass production, returning purchases by customers, and excess buying are being reduced. The solution for a more creative and sustainable fashion industry is up for grabs!
︎
---
More from Fabienne de Bever
INSIGHT REPORT 2020
Brands and Innovation

Amsterdam Fashion Institute